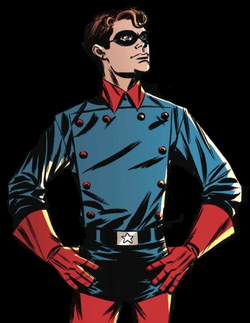 Early Life
Edit
Born in 1925, James Buchanan Barnes lost both his parents early in his life; his mother had died when he was a child and his father had died in an accident while in basic training at Camp Lehigh shortly before Christmas in 1937. He was separated from his younger sister Rebecca, who was sent to boarding school while he persuaded officials into letting him remain at Camp Lehigh as a ward of the state due to sharing his father's love of the armed forces. He was eventually considered the camp mascot. During World War II, he set up a profitable endeavor providing soldiers with various non-requisition supplies. He soon began to receive select assignments as a special military operative, having received hand-to-hand combat training with British Commandos under the tutelage of William Essart Fairbairn and Colonel Rex Applegate. It was possibly linked to operations conducted by the mysterious Romulus, a figure involved in worldwide espionage. He met and befriended a young and somewhat naive private Steven Rogers, who had recently become the government operative Captain America. He was assigned to accompany Rogers, but was initially unaware of the true nature of his work. One night, Barnes happened into Rogers' tent just as he was changing to his masked identity. Sworn to secrecy, Barnes joined Captain America on his first mission against the Red Skull (Johann Schmidt), freeing many Nazi prisoners. For several months afterward, Barnes underwent an intensive training program under Captain America's tutelage. When he finished, he received his own costumed identity as Bucky and was designated as a counter-example to Hitler Youth. Although he was able to work with his mentor for most of his missions, James was trained to carry out missions the government officials did not want Captain America to be openly involved in. He was cynical and slightly dubious of the idealistic Steve Rogers, but they soon became the closest of friends.
As Bucky
Edit
When America entered World War II after the bombing of Pearl Harbor in December 1941, Captain America and Bucky abandoned their military identities for most of the war to devote their full energies to serving as costumed freedom fighters. They soon found themselves allied with the Sub-Mariner, the original Human Torch, and his young mutant partner Toro, in a team that Winston Churchill dubbed the Invaders. Bucky served Captain America and the Invaders capably and faithfully, leaving the team only temporarily to organize and lead his own team of teenage soldiers, the Kid Commandos. Once, to rescue the Invaders from the Red Skull, Bucky assembled a team of costumed super-humans who operated on the home front, a group that would remain together until the end of the war and was known as the Liberty Legion He also worked with another group of teenagers, the Young Allies.
Ad blocker interference detected!
Wikia is a free-to-use site that makes money from advertising. We have a modified experience for viewers using ad blockers

Wikia is not accessible if you've made further modifications. Remove the custom ad blocker rule(s) and the page will load as expected.