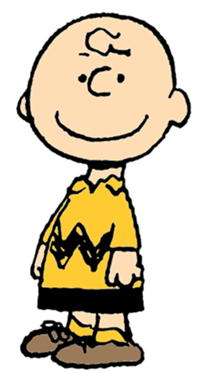 Charles "Charlie" Brown is the main protagonist in the Peanuts comic strip by Charles M. Schultz. Charlie Brown is a lovable loser, a child possessed of endless determination and hope, but who is ultimately dominated by his insecurities and a "permanent case of bad luck". He is often taken advantage of by his peers.

Charlie Brown first appeared in 1947, three years before Peanuts started, in a comic strip by Charles M. Schulz called Li'l Folks. He later appeared in the first Peanuts comic strip on October 2, 1950. He is one of the most well known characters in Peanuts and is considered to be the main character in the strip.
Charlie Brown states in the strip from November, 3, 1950, that he is "only four years old", but he aged over the next two decades.
Charlie Brown is the only character to appear in the the first Peanuts comic strip from October 2, 1950 and the last one from February 13, 2000.
Appearance
Edit
Charlie Brown is drawn with only a small curl of hair at the front of his head, and a little in the back. Though this is often interpreted as him being bald, Charles M. Schulz has explained that he saw Charlie Brown as having hair that was so light, and cut so short, that it could not be seen very easily. Snoopy thinks of his owner as "the round-headed kid". Charlie Brown almost always wears black shorts and a short-sleeved shirt with a black zig-zag stripe around the middle. In the animated TV specials, his shirt is colored yellow. In the past, his shirt was colored red in the Sunday comic strips and blue in Peanuts merchandise but it now usually appears as yellow in all media. He originally wore a plain tee-shirt when he first appeared in 1950.
Peanuts Sunday strips were often titled Peanuts featuring Good Ol' Charlie Brown. Schulz later stated that he had wanted to name the strip Good Ol' Charlie Brown but that the name Peanuts was chosen by the cartoon syndicate instead; as a result, some people inferred that Charlie Brown's nickname was "Peanuts". Schulz suggested the Sunday title as a clarification device.