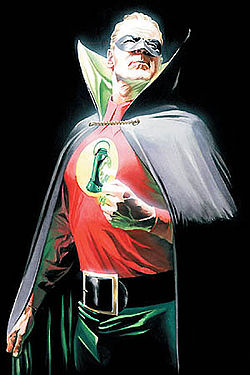 Unlike others who bear the name "Green Lantern," Alan Scott's power does not come from the Guardians of the Universe, but from the Starheart, a magical entity once imprisoned by the Guardians. The Starheart found its way to Earth where in 1939, in the shape of a lantern, it saved Alan from a train wreck. At the lantern's mental direction, Alan fashioned a ring from it that allowed him to tap the Starheart's great power. Perhaps influenced subconsciously by the Starheart's history, Alan adopted the identity of Green Lantern (the name of the great Corps administered by the Guardians).
Justice Society of America
Edit
Alan was a founding member of the Justice Society and was instrumental in many wartime battles. After the war, as a broadcast executive in the late forties, Alan Scott had a flirtatious relationship with the costumed villainess the Harlequin (who unbeknownst to Alan, was secretly his secretary, Molly Maynne). Molly even admitted that her career as a "criminal" was just a ruse to get close to Green Lantern. The Harlequin eventually turned over a new leaf, becoming an undercover agent for the FBI. She left Alan's life without confessing her true identity or her real feelings.