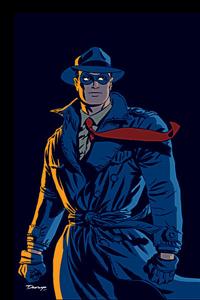 While fighting the evil Dr. Cobra, young policeman Denny Colt was hit by a liquid which put him in a state of a deep coma. Believed dead, Denny was buried at Wildwood Cemetery, but awoke from his grave 24-hours later. He established a base under his tombstone and using his new-found anonymity, he began to fight crime and protect the people of Central City as The Spirit.
His identity is known only to his "driver," Ebony White and Police Commissioner Dolan.
Ad blocker interference detected!
Wikia is a free-to-use site that makes money from advertising. We have a modified experience for viewers using ad blockers

Wikia is not accessible if you've made further modifications. Remove the custom ad blocker rule(s) and the page will load as expected.